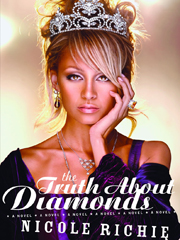 While scanning the shelves at the library a few days ago, I came across a familiar name, Nicole Richie. Now you might never have guessed it, but I am a huge "Simple Life" fan. I think it is one of the better reality shows to hit the airwaves, so think of my delite when I came across this book. I spent this last, rainy weekend engulfed in the drama that is this book.
The first time I stepped away from this book was at chapter 12, "The Mother of All Confrontations" and the book was finished before I put it down again.
The book, fiction with striking similarities to Richie's real life, is like reading an extended copy of any tabloid, light summer reading at it's best.